Rilion Gracie – Brazilian Jiu-Jitsu 7th Degree Coral Belt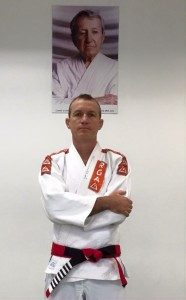 Head instructor
Master Rilion Gracie is the youngest male son of the Grand Master Carlos Gracie Sr. (the founder of Gracie Brazilian Jiu-Jitsu and the creator of MMA). He has been involved in his father's tradition since he was born. He has grown up in the world of mats, healthy living, improved life skills and philosophic concepts of Gracie Jiu-Jitsu.
.
.
.
.
.
.
---
Spenser Gilliam – Brazilian Jiu-Jitsu Black Belt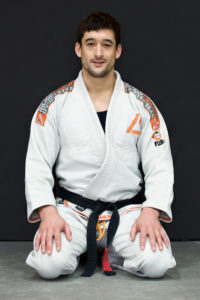 Professor
Spenser Gilliam has been practicing Brazilian Jiu-Jitsu since moving to the Houston area in 2004. He received his black belt under Carlos Machado lineage (the nephew of the Grand Master Carlos Gracie Sr.). Spenser has continued his training under Romulo Reis Pereira, 4th Degree Black Belt under Rilion Gracie and Master Rilion Gracie himself.
Spenser has been an active competitor at every belt from white to black. He has competed at tournaments at the local level as well as having traveled across the US to compete at more prestigious events. He plans to continue competing as long as possible in order to constantly test and improve his skills.
As well as being an avid competitor Spenser also has several years of teaching experience from the fundamental to the advanced level. He continues to study techniques both old and new in the Jiu-jitsu world not only to improve his own technique but to share it with his students of all ages. He looks forward to the opportunity to teach you about how Jiu-jitsu can be fun and challenging while also providing you with incredible health benefits in both body and mind.
---
Mario Agnese – Brazilian Jiu-Jitsu Black Belt

Professor
Professor Mario
Agnese
 has practice sports all of his life. In his young days, he practiced swimming, water polo and karate. He has practiced Jiu Jitsu since 1990. His first instructor Gerson "Mosquito", a direct student from Reylson Gracie, is widely known as one of the best Gracie Jiu Jitsu Self Defense instructors in Rio. 
Mario
 was under his lineage until blue belt when the school merged with Andre Pederneiras school, who is the leader of the Nova Uniao Team and considered to be one of the most technical non- Gracie Jiu Jitsu fighter. 
Mario
 lives a healthy life style and he recently completed a few IronMan races.
Under Pederneiras, 
Mario
 had the opportunity to train and help several world Jiu Jitsu champions, such as, Vitor "Shaolin" Ribeiro, Robinho Moura, Renato 'Charuto" Tavares and BJ "the prodigy" Penn. 
Mario
 also trained Judo with Georges Mehdi
Mario
 received his Jiu Jitsu black belt in 2005 from Andre Pederneiras. In that time, 
Mario
 was leading Jiu Jitsu kids and adults programs in two Miami schools – Miami Budokai and Anta's Fitness.
Mario
 is a true believer and example of the  classical self defense training methodology created by the Gracie Family.
.
.
---
Vinny Simões – Brazilian Jiu-Jitsu Blue Belt

Assistant Professor
Coach Vinny started his Gracie Jiu Jitsu practice under Prof Spenser Gilliam and Prof Mario Agnese in 2016. He is a parent of two sons who also practice in our school. His brother is a brown belt in Brazil and has also helped Vinny in his practice. Coach Vinny will be helping with kids, Juniors and Teens classes. He is also a co-owner of the school.