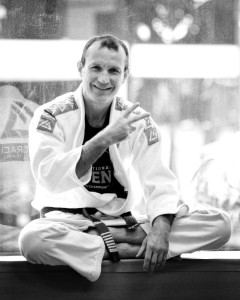 Master Rilion Gracie is the youngest male son of the Grand Master Carlos Gracie Sr. (the founder of Gracie Brazilian Jiu-Jitsu and the creator of MMA). He has been involved in his father's tradition since he was born. He has grown up in the world of mats, healthy living, improved life skills and philosophic concepts of Gracie Jiu-Jitsu.
In 2015, after 31 years of black belt, Master Rilion Gracie was promoted to Coral Belt in the largest seminar of Brazilian Jiu-Jitsu  history.
Rilion is proud to have had his father Carlos Sr. and his brother Rolls (the forefather of modern Jiu-Jitsu) as his mentors and professors.
In the early 1980's besides teaching at the Gracie Ipanema academy, he was a founding member of the Gracie JJ School in the Barra da Tijuca, neighborhood at Rio de Janeiro, along with his older brothers Crolin and Carlos Jr. In 1988, he was one of the instructors at the first Gracie Jiu-Jitsu Seminar in the United States hosted by the actor and Martial Arts enthusiast Chuck Norris.
In the early 1990's, Rilion decided to move to Santa Catarina (a state in south Brazil) to spread his family's legacy, and establishing the Rilion Gracie Academy in Florianopolis. Through his dedication and expertise, his academy grew into what today is one of the strongest Jiu-jitsu academies of South Brazil.
Rilion has been acclaimed by the most prestigious newspaper in Brazil (Jornal do Brasil) as the "…most technical Jiu-Jitsu Master in the world…"
Rilion has over 30 years teaching both Jiu-Jitsu and MMA, and has been a professor and coach to many international champions including many representatives of the Gracie family, like Renzo, Ralph, Kyra, Rolles, Igor, Gregor, Daniel, Roger and his son Roggan (who had his victorious MMA debut in Milan Italy – May 2013).
Rilion believes that the most important thing in life is the search for true essence, spiritual development to overcome life's difficulties and to contribute to a better world for all of us.
There is no doubt that Jiu-Jitsu, when practiced and taught with its true principles, bring about physical, mental and spiritual benefits.
Rilion fought competitively for 15 years in both Jiu-Jitsu and free style matches. In his competitive career as a Black Belt he was never submitted, neither in competition nor in sparring sessions. He is recognized for his mastery of the art and has become known for being "100% technical".