Rilion Gracie – Brazilian Jiu-Jitsu 7th Degree Coral Belt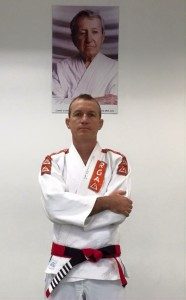 Head instructor
Master Rilion Gracie is the youngest male son of the Grand Master Carlos Gracie Sr. (the founder of Gracie Brazilian Jiu-Jitsu and the creator of MMA). He has been involved in his father's tradition since he was born. He has grown up in the world of mats, healthy living, improved life skills and philosophic concepts of Gracie Jiu-Jitsu.
Romulo Reis – Brazilian Jiu-Jitsu 4th Degree Black Belt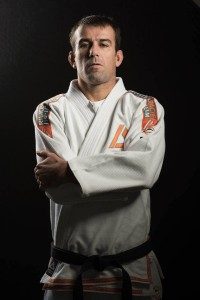 Partner and Lead Professor
Professor Romulo Reis is a 4th Degree Black Belt who started training Brazilian Jiu-Jitsu with Master Rilion Gracie in 1992.
At that time, around 25 years ago, he was part of the first Brazilian Jiu-Jitsu Team in south Brazil (Florianópolis/SC) and, since then, he has dedicated his life to Brazilian Jiu-Jitsu, receiving his Black Belt in 2000.
With more than 25 years of teaching experience, he has coached many champions in the world of Brazilian Jiu-Jitsu and he has ministered several seminars in Brazil, USA, Puerto Rico, Guatemala and Japan. Also graduated 25 Black Belts during his career so far, and won several national and international titles such as 3-times South Brazilian Champion, 2-times Pan-American Champion, 1-time South American Champion and 2-times Champion in Japan.
Romulo owned a Brazilian Jiu-Jitsu Academy in Brazil for 13 years teaching kids & adults and also competing before he moved to the US in 2010, when he was assigned a Professor at Rilion Gracie Academy in Miami, FL. After a few years, he was given the challenge to run the Houston, TX location for Master Rilion Gracie and moved to the city in 2013.
While in the Houston Area, he also participated in the opening of the Missouri City, TX location as a partner and Lead Professor in 2015 and continues to achieve great success in the area.
Spenser Gilliam – Brazilian Jiu-Jitsu Black Belt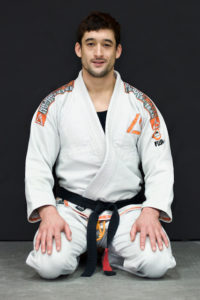 Professor
Spenser Gilliam has been practicing Brazilian Jiu-Jitsu since moving to the Houston area in 2004. He received his black belt under Carlos Machado lineage (the nephew of the Grand Master Carlos Gracie Sr.). Spenser has continued his training under Romulo Reis Pereira, 4th Degree Black Belt under Rilion Gracie and Master Rilion Gracie himself.
Spenser has been an active competitor at every belt from white to black. He has competed at tournaments at the local level as well as having traveled across the US to compete at more prestigious events. He plans to continue competing as long as possible in order to constantly test and improve his skills.
As well as being an avid competitor Spenser also has several years of teaching experience from the fundamental to the advanced level. He continues to study techniques both old and new in the Jiu-jitsu world not only to improve his own technique but to share it with his students of all ages. He looks forward to the opportunity to teach you about how Jiu-jitsu can be fun and challenging while also providing you with incredible health benefits in both body and mind.
Clay Korth – Brazilian Jiu-Jitsu Purple Belt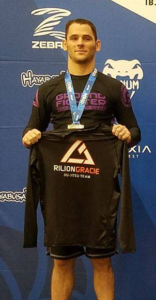 Assistant Professor
Clay Korth has practiced Brazilian Jiu-Jitsu for over seven years. Clay has always focused in learning the most modern techniques and as part of his training , he spent several months traveling around South America including Argentina and Brazil to train in several different schools. After Clay moved back to Houston area, he joined the Rilion Gracie Academy team.
Brazilian Jiu-Jitsu is his lifestyle. He is a full time assistant instructor and has a lot of patience to teach the most complicated BJJ modern techniques.
Clay competes locally and internationally and has won several tournaments. He is an important part of the development of Rilion Gracie competition team in Katy area.